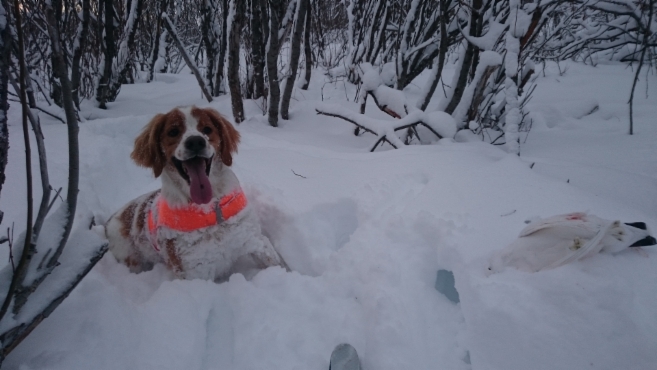 Metsästysretket
Linnunmetsätystä koulutettujen koirien ja oppaan kanssa
Oletko haaveillut mahdollisuudesta metsästää Lapissa koulutettujen metsästyskoirien ja oppaan kanssa? Tarjoamme kaksi koiraa ja oppaan Inarin sekä Utsjoen alueella tapahtuviin metsästyksiin.
Kesto: max 8 tuntia
Ryhmän koko: 1-4 hlöä
Hinta: pyydä tarjous
Hinta sisältää: oppaan palvelut, kaksi metsästyskoiraa ja retkieväät
Saatavissa: 10. syyskuuta – 31 lokakuuta. Huom. alueelliset rajoitukset.
Lisämaksusta kuljetus tarvittaessa. Tarjoamme myös kuljetusta Ivalon lentokentältä hotelliin Ivalo/Saariselkä/Inari ja edelleen metsästysalueelle.
Metsästysluvat Metsähallitukselta (ei sis. hintaan).
Hunting and fishing permits
Hunting and fishing in Finland is subject to licence. Hunting requires a firearm certificate, payment of an annual game management fee (i.e. hunting card) and a hunting permit by the landowner, for instance Metsähallitus. Additionally, a certificate indicating the successful completion of a shooting test is requirede for elk hunting, for instance.
With certain exceptions, fishing requires payment of a fishing management fee and permission given by the owner of the water area. 
For further information, please visit