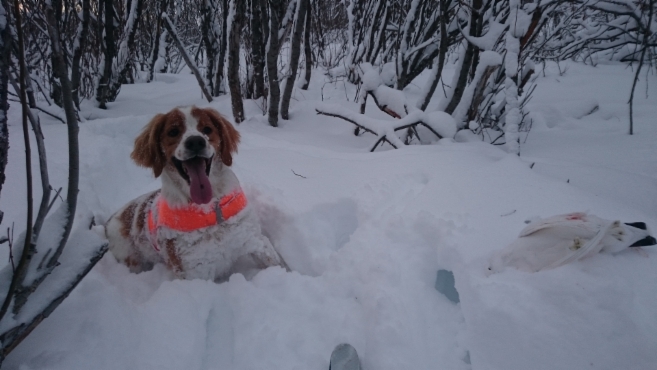 Hunting Treks
BIRD HUNTING WITH TRAINED HUNTING DOGS
Are you looking for an opportunity to hunt with trained hunting dogs in the wilderness of Lapland? We offer you the guide and two trained birdpointing hunting dogs for a hunting trip in Inari and Utsjoki areas.
Duration: max 8 hours
Group size: 1-4 persons
Price: ask for price
Price includes: Guiding, two trained hunting dogs and packed lunch
Available: 10. September – 31 October. Please note the local restrictions.
For extra charge: transportation; We also offer transportation from Ivalo airport or any of the hotels from Ivalo/Saariselkä/Inari to the hunting areas.
Hunting permissions are regulated by Metsähallitus.
You can join us without hunting permission, then you do not carry a shotgun.
Hunting and fishing permits
Hunting and fishing in Finland is subject to licence. Hunting requires a firearm certificate, payment of an annual game management fee (i.e. hunting card) and a hunting permit by the landowner, for instance Metsähallitus. Additionally, a certificate indicating the successful completion of a shooting test is required for elk hunting, for instance.
With certain exceptions, fishing requires payment of a fishing management fee and permission given by the owner of the water area. 
For further information, please visit